The Tale of Drosselmeyer
For over a year, friends and I had wanted our friend Erik to cosplay as Drosselmeyer (from Princess Tutu). He's much taller than all of us and he can make the best, toothiest grin! He hadn't watched the show but we knew he could pull off the creepy old man. Drosselmeyer is rarely cosplayed. I was sure that anyone who watched Princess Tutu and would see Erik would be surprised. (And many where! It was fun seeing people's reactions at the con.)
Erik was a good sport about it. Even though it was us who asked him to wear it, he offered to pay for materials. Plus, it's a fairly cumbersome costume and he handled it well.
Finally by Fanime 2010, we had it finished. It was a team effort that spanned over a few months. Karen and I did the bulk of the sewing. We altered patterns for the big red cloak. (I HATE LINING. UGHHH.) To make it easier for Erik to wear and to cut down on the layers of fabric, the purple/pink sleeves are connected to the green tunic. For the hat, Karen came up with a pattern and worked from scratch.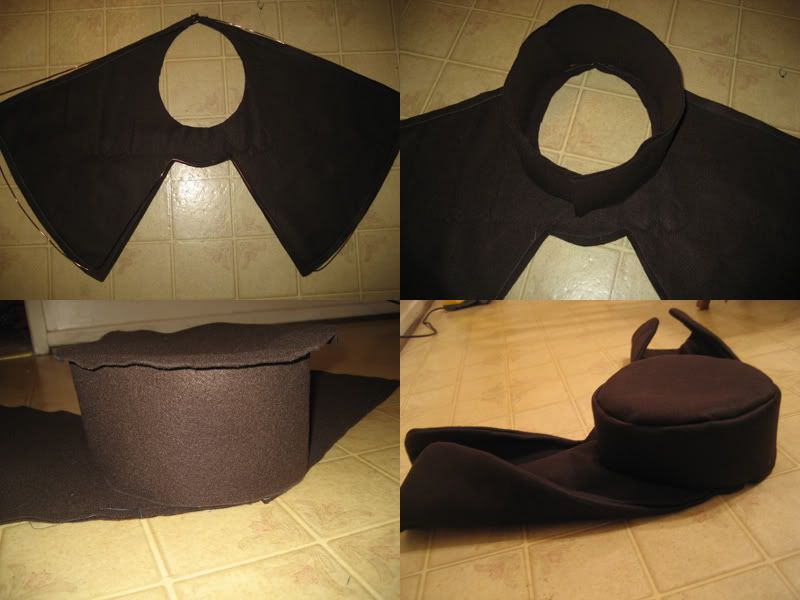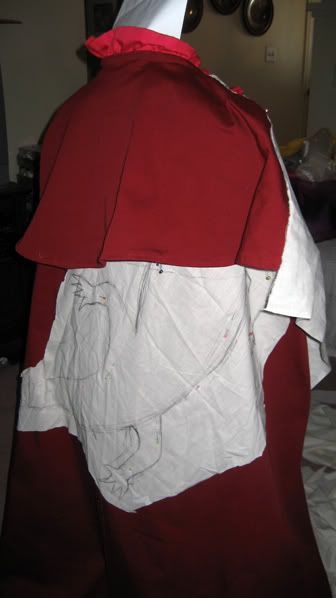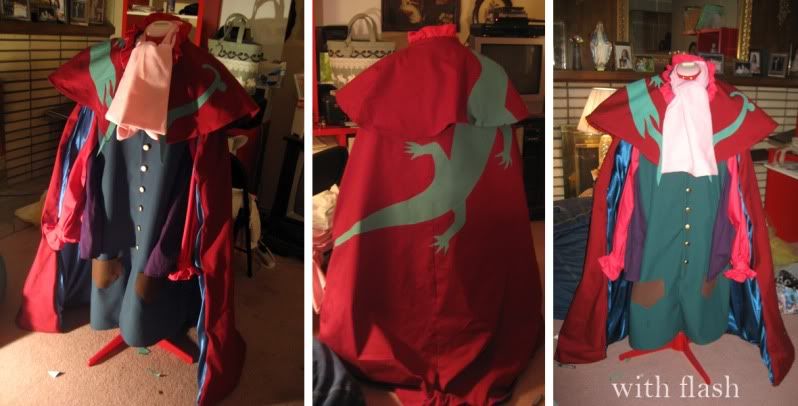 My dressform is too short for this costume! xD;  But this shows off the gecko well.
The patterns we had used and altered for the outfit were: Simplicity 2517 (for the capelet), McCalls 5957 (cloak), Butterick 3072 (tunic+sleeves), and I forgot what pattern was used for the shoe covers. xD; I might have that written down somewhere. 
The gecko-thing on the back was attached with iron-on adhesive heat n' bond and then sewn in places to keep it from coming up.
Karen/Random Karen - hat, green tunic, cloak planning/measuring
Me - cloak, cravat, sleeves, beard/eyebrows
Leslie/Lee-buddy - wig
Whitney/Gowa - shoes
Caroline/Midnight Rocket - green gecko-thing design
Mark/Choco-kun - Lifesaver in helping with the feathers in the hat last minute. TEAMWORK!
Erik/StrongestShield - wore the costume 
THE END.